Touched Records News.
News & Information.
Find out the latest News for Touched Records.
Renegade Signs Snoop to Touched Records.
Touched Record's Home grown rapper Renegade signs Underground rapper Snoop. The 2 rappers are Currently working on 2 songs that will feature on Renegade's Cd 'speak when spoken to'. The songs Named 'When thugs cry' and 'i'm a survivor'. the songs will be released by the end of 2006 or early 2007. in da mean while Snoop has his mind set on his own Career. more Info later.
Classroom Riot Impact.
After only 2 Months Classroom Riot have Had Numerous Appearances and have Managed to gather a small fan base. The band have had requests of a Cd so the band are putting one out as soon as possible. They are also Performing at ACE and a Concert later in the year later to be revealed. More info later...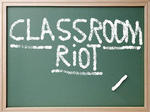 Classroom Riot on Rhema Fm!
Soon to be Recorded song of Classroom Riot's called 'Without you' will be being played on Rhema Fm for it's debut single.